Awareness: Rope Rescue Objectives
Duration: 1 day (8hours)
Level: Awareness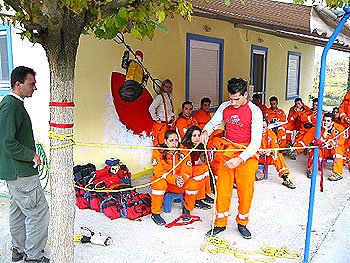 This intensive lecture and participatory problem-solving course is designed to be compliant with the newly implemented NFPA 1670, "Standards for Search and Rescue." The class fully meets the intent of the document by providing departmental personnel knowledge at the "awareness" level for rope safety and rescue.

Rescue 3 International has been delivering the recognized national standard courses in swiftwater rescue since 1979, to nearly 70,000 people in 14 countries. This course is a compilation of lessons learned through the delivery of nearly a quarter of a million hours of instruction, combined with the specific guidelines of NFPA 1670. The course authors are rescue professionals themselves, responding as members of rescue teams, fire departments, and state and Federal-level flood incident support functions.

Topics covered include (among others):

- an overview of rope rescue environments;
- training standards and legal issue;
- the "absolutes" of rope safety and rescue;
- low to high risk rescue options;
- the roles of "size-up" and hazard assessment;
- the role of incident command system;
- team training and equipment;
- special situations including hazardous materials and confined spaces operations;
- use of technical gear in rescue operations;
- use of mechanical advantage systems, anchors and raising and lowering systems in a rope rescue operation;
- medical considerations;
The course concludes with a series of rescue problems.
Course participants receive a certificate, indicating that they meet the requirements for the Awareness Level for Rope Rescue, according to NFPA 1670.